Archived article
This article has been archived. For more information on archiving, see the Archives.
Reason: No reason has been given. Please replace this template with {{Archived|Reason}}
Daedalis is a moon-planet of
Icaris
. It is roughly the size of the Earth's moon and consists of one large ocean and a small island group called Metia (or Maen by the locals) The planet was terraformed in the 4300's to house ABBLE's planetary defense units and as a research station.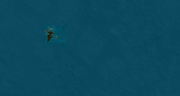 Ad blocker interference detected!
Wikia is a free-to-use site that makes money from advertising. We have a modified experience for viewers using ad blockers

Wikia is not accessible if you've made further modifications. Remove the custom ad blocker rule(s) and the page will load as expected.