Archived article
This article has been archived. For more information on archiving, see the Archives.
Reason: No reason has been given. Please replace this template with {{Archived|Reason}}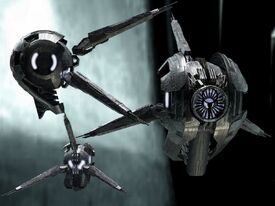 A
Jorthanio
is a
Xzeron
monitor overseeing much of the work made by the constructs throughout the Xzeron empire. They often accompany
Yaunthars
such as
Erokh
to provide them with tactical info and battlefield reports.
Their exact purpose is unknown, as is the date of their creation. They have been seen fighting using a beam from their 'eye' to defend themselves against hostiles. They are equipped with strong energy shields that surround them when an object flies at a speed that could harm it.
Some are replacing the Yerghem at their 'Birth Facilities' to speed up the creation of A.I.'s. Despite their intelligence being greater than that of a Yaunthar they do not desire a position in the hierarchy and have been given a new title, the Inspector. They can work unhindered by any regulation. The Server has also tasked them with acting as diplomats in case a new civilisation would be encountered.
Ad blocker interference detected!
Wikia is a free-to-use site that makes money from advertising. We have a modified experience for viewers using ad blockers

Wikia is not accessible if you've made further modifications. Remove the custom ad blocker rule(s) and the page will load as expected.