Archived article
This article has been archived. For more information on archiving, see the Archives.
Reason: No reason has been given. Please replace this template with {{Archived|Reason}}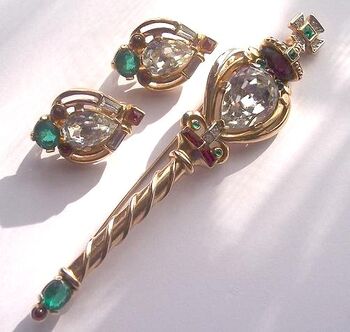 The
Sceptre of Ithaya
is one of the crown jewels of the
Drahoni
Wirsdakh Kingdom. They are currently in the possesion of
Felionary Yeghnem
who is married to the monarch
Tiberychaam Wirsdakh
.
The Sceptre of Ithaya was the family treasure of the Ithaya Kingdom in ancient Drahoni times, when the two kingdoms merged it was given as a wedding treasure. The Wirsdakh King at that time was greatly pleased and told they were allowed to keep it as long as his wife would stay at his side.
At the death of the monarchs of the Ithaya Kingdom the Sceptre was officially property of the Wirsdakh Kingdom.
Ad blocker interference detected!
Wikia is a free-to-use site that makes money from advertising. We have a modified experience for viewers using ad blockers

Wikia is not accessible if you've made further modifications. Remove the custom ad blocker rule(s) and the page will load as expected.