Archived article
This article has been archived. For more information on archiving, see the Archives.
Reason: No reason has been given. Please replace this template with {{Archived|Reason}}
Tallion (also known as Talios) is the largest moon-planet of
Icaris
and consists of lush swamps and jungles seperated by hot deserts and shallow oceans. It is home to AECE research centers and terraforming bases where creature species from United Universe colonies are genetically engineered and cloned to populate Icaris and other planets.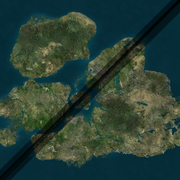 Tallion Is mostly known for its extensive variety and amount of bird species from around the universe. The most famous of wich is Avis Invisabilis or krentycin, a bird that can use extreamly accurate camoflouge techniques (an advancement to an octopus on earth)
Ad blocker interference detected!
Wikia is a free-to-use site that makes money from advertising. We have a modified experience for viewers using ad blockers

Wikia is not accessible if you've made further modifications. Remove the custom ad blocker rule(s) and the page will load as expected.